Casale Jewelers Bridal Bash - Engagement Rings, Wedding Bands and Gifts
If you are looking to get Engaged or are getting Married, this is an event you do not want to miss.
Don't Miss the Casale Bridal Bash and Trunk Show at Casale Jewelers.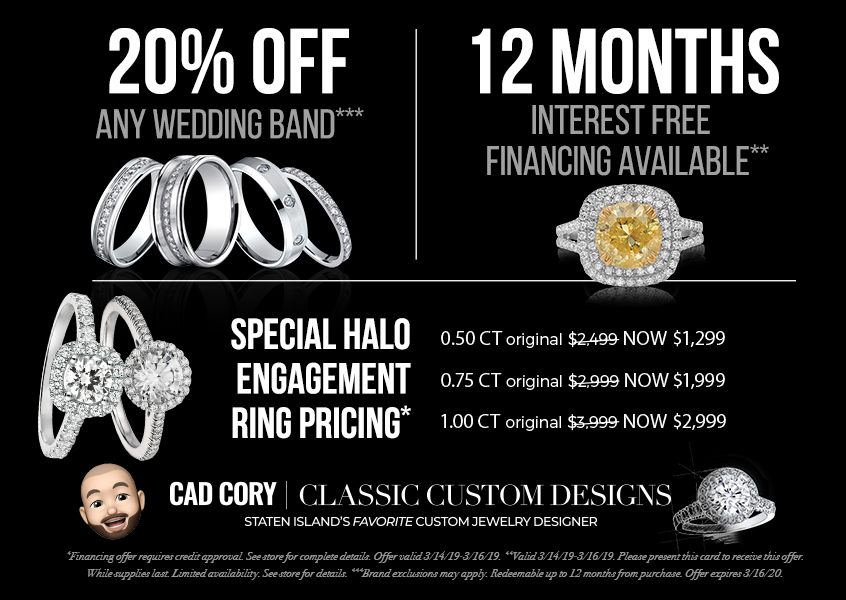 Choosing an engagement ring or wedding band to represent your unique relationship can be overwhelming. However, you can make the decision so much easier by attending Casale Jewelers Bridal Bash and Trunk Show.
From March 14th through the 16th, stop in to check out our huge selection of engagement rings, wedding bands and loose diamonds certified by GIA and Forevermark.
Engagement Rings
If you're looking to pop the question to the one you love, we have 1000's of engagement ring styles for you to choose from in our showroom. Plus, we'll have more than a huge assortment of additional rings for you to try on at our Trunk Show, including the latest from Verragio, Martin Flyer and Roman and Jules.
Browse an amazing selection of rings in a wide variety of styles, metals, diamonds and gemstones! We will walk you through every step and want your experience to be fun and stress-free (at least less stressful compared to actually asking the big question).
For the event, specials include:
A 2ct Forevermark diamond engagement ring is starting at $399 a month.
A 0.50ct halo engagement ring is $1,299.
A 0.75ct halo engagement ring is $1,999.
A 1.00ct halo engagement ring is $2,995.
12 months of interest free financing.
20% off all Engagement Rings and Wedding Bands - and get 1 free offer from the Benchmark Forge Collection.
Below MSRP pricing on certified Loose Diamonds in any shape - Round, Princess, Cushion, Oval, etc...
Wedding Bands
First off, congratulations on your recent engagement! The next (and easier) step is to pick out your wedding bands. This is where Casale Jewelers can help! We understand that your wedding band will represent your love forever, so we'll help you choose something you'll enjoy looking at every day.
We know that weddings can be a big expense. That's why we're offering 20% off one band and a free band for Him/Her making this the best time to choose your wedding bands! If you've already bought one of your rings, you can take 50% off any other piece of jewelry in the store except loose diamonds as the second piece of jewelry. Or, we offer a 20% discount on any single ring.
Customization is our Specialty!
CAD Cory is here to customize your "One of a Kind, for a lifetime" ring. This means we want your rings to be as unique as you! With our custom design capabilities, you'll have almost unlimited options to perfect rings you'll be proud to wear throughout your lives together. We can customize a wedding band to fit any type of engagement ring.
Brunch on Us! Just RSVP
RSVP at casalejewelers.net/events, bring a copy and shop for the perfect engagement or wedding rings during our Bridal Bash and Trunk Show, and you'll receive free brunch on us at the South Fin Grill. South Fin Grill is Staten Island's premier destination for oceanfront dining. It's one of Cory and Karen's favorite spots, and we're excited to share it with you.
Spaces are limited, so RSVP early!
See You at the Bash!
Cory and the rest of the Casale Jewelers team can't wait to welcome you to our Bridal Bash and Trunk Show! We're proud to offer an unbeatable selection of quality rings at can't-miss prices. With so many to choose from, you're sure to find the ones for you.
Casale Jewelers is located in Staten Island, NY and is the premier bridal destination for Engagement Rings, Wedding Bands & Bridal Gifts. The store address is 1639 Richmond Road, Staten Island, NY 10304. We are minutes from all major bridges. Click here for directions.